Internal linking is a highly actionable onsite optimization strategy that helps users and search bots find and understand your site's content. Once your Wix website is done and indexed by google next thing you are going to do is submit sitemap to search console. But before that you should done your internal site linking properly. As we know first impression is the best impression.
In the following guide, I will teach you precisely what internal linking is, its purpose for Wix SEO, and some best practices for Internal Linking in Wix. I will then give you a step-by-step guide on how to optimize internal links on your Wix site.
What is internal linking?
Links, or "hyperlinks", are key to how we navigate the internet. They allow users and search crawlers to navigate from one webpage to another without needing to type a new url into the address bar.
Following links is the only way they discover and then index pages on the web for search crawlers. If a page isn't linked to from anywhere, externally or internally, it is not going to get found by Google.
Internal links move you to another url on the current root directory, i.e. a different page of the same website. In contrast, an external link takes you off the site to another domain.
From an SEO point of view, Internal linking is comprised of:
Choosing where to place internal links on your site
Determining what to part of your site to link to link each other
Selecting the most appropriate anchor text to use for these links
The main purposes of internal links are:
To help both users and the search robots navigate your site
Create a clearer structure for your website that helps define how your content is linked together (i.e. a site hierarchy) and what your most important content is
Allow PageRank to flow through your site
Internal links on Main vs Supplemental Content
Internal links can be split into two categories: Links from the supplemental content of your site and links from the main content of your site.
A page's main content is what the user is going to be the most interested in. This is likely the unique post, article or guide, or perhaps the images or the video on your page.
Conversely, the supplemental content is everything else, such as the main navigation, the site's footer, and widgets or features like 'related articles' and 'recent posts'. This is often referred to as 'boilerplate' content.
Both the main and the supplemental content of a site contain internal links and it is essential to optimize both to help improve the user experience and your search engine rankings.
Best Practices for Internal Linking in Wix
Using internal links to create a clear site structure or content silos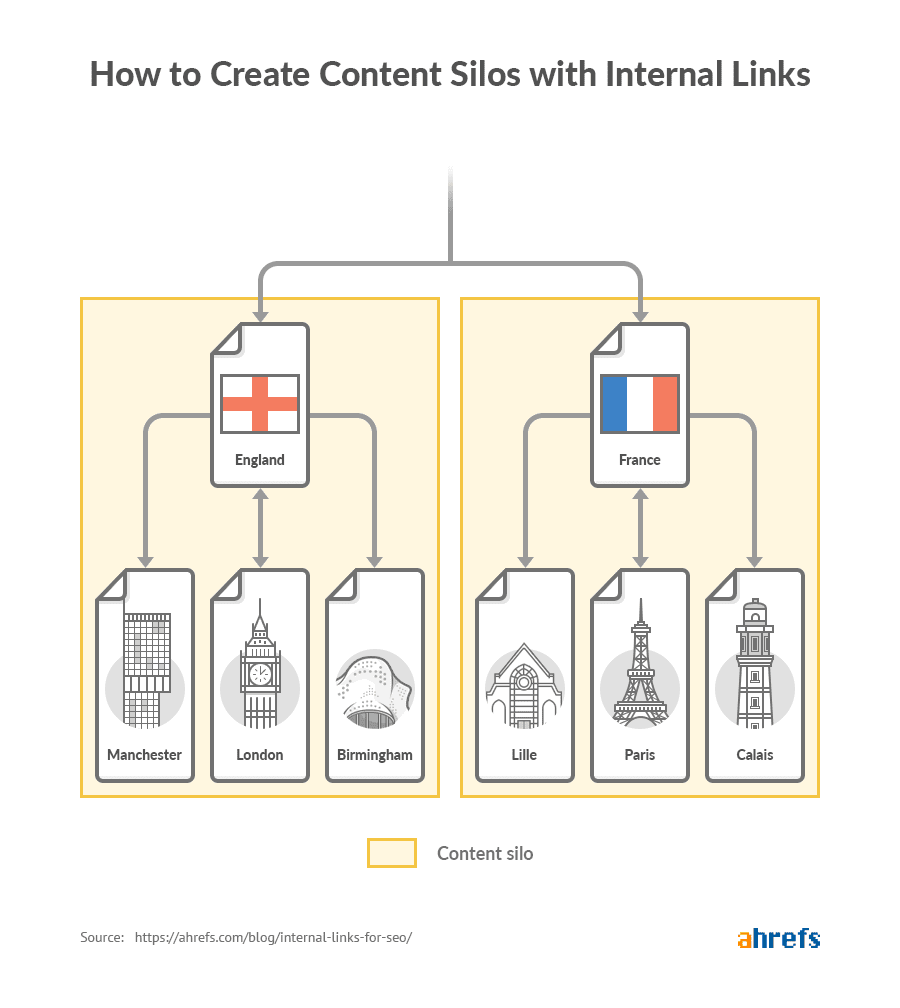 Internal linking helps both users and Googlebot (well, all search crawlers) to be able to find your content.
Think about this from the user side where you are, say, trying to find news about the US & Canada from the BBC. The URL for this section of the BBC site is bbc.com/news/world/us_and_canada – not something you are likely to know off of the top of your head!
But you may already know how to get to the BBC's website — bbc.co.uk. When you arrive there, the main navigation will lead you to where you want to go. First, you click on the "News" link and then you click on the "US & Canada" link, and presto!, you've found what you're looking for!
There is no chance their crawler will find a page for search bots unless it has been linked to from somewhere else on the web that they can find.
To help bots find all of your content, it is best to adopt a url structure whereby a crawler can follow the internal links and it will be able to find all the pages you want it to discover and index.
The ideal site structure for this should be formed like a pyramid, with your most important content at the top and the most niche content at the bottom. It looks something like this:
Commonly known as a "hub and spoke" model, if you trace your finger along the lines from any one page, you can find any other page on the site. When optimally structured, the further away (or more links you need to follow) one page is from another, the less relevant that page is from the original page.
Moreover, the closer to the top of the pyramid we get, the more important that content should be. In most cases, you should be linking top-down in the following fashion:
Homepage -> Sections/Categories -> individual posts and pages
Note: This should not just be reflected in your internal linking structure, but also in your url structure.
For example, if you are linking homepage -> category 1 -> post 1 as your internal linking strategy, your url structure should follow as yourdomain.com/category1/post1
How to Build Your Internal Linking Strategy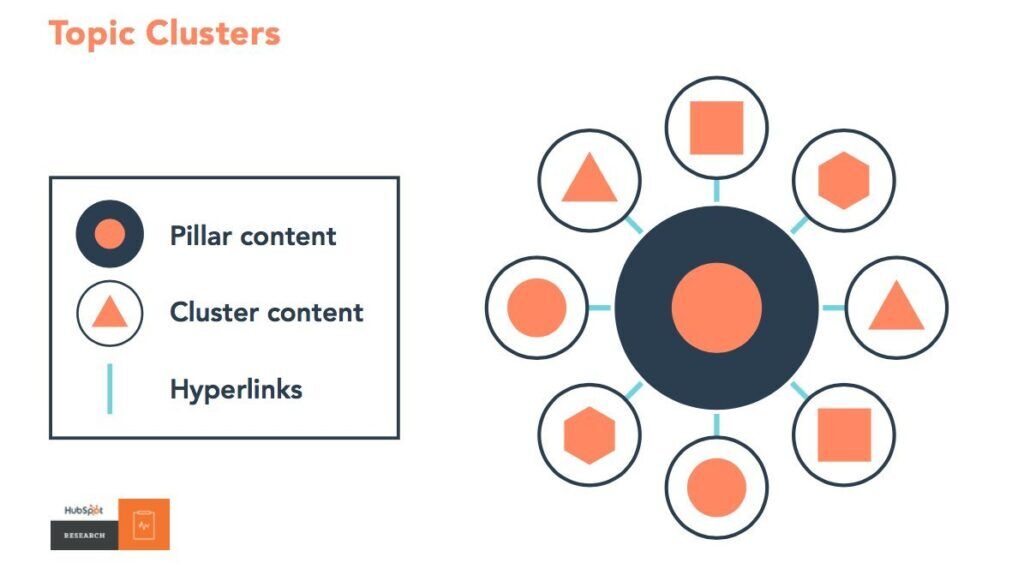 Identifying Your Site's Hub Pages: Find out your website pillar pages or the pages that are performing well. If you don't have pillar pages or your website is new, you need to plan to build some hub pages. It can be resource article, service page or any post targeting comititive keywords.
Creating Topic Clusters Using Internal Links Around your Hub Pages: Once you have your hub pages. Make 5-10 post on same topics and link towards those hub pages. This post can be informational post. It may or maynot targeted for long tail keywords. This is usually reffered as topic closter.
Choosing the Right Anchor Text (Use keywords): While linking one page to another try to use keywords or LSI as anchor text.
Identifying Your Site's Authority Pages
Using Internal Links to Improve the Ranking of Authority Pages
Using Internal Links to Optimize New Contents: Always make plan before publishing post. Your content plan may look like this:
Source for this article and image credits: